Have you ever seen a slab of concrete polished to a mirror-like, high-gloss finish? While you can temporarily achieve this look with wax, waxes quickly fade and fail. The lasting, durable way to achieve that high gloss shine is with commercial concrete polishing. Commercial concrete polishing can provide the best quality floor that maximizes appearance, durability, low maintenance and lower cost for that floor.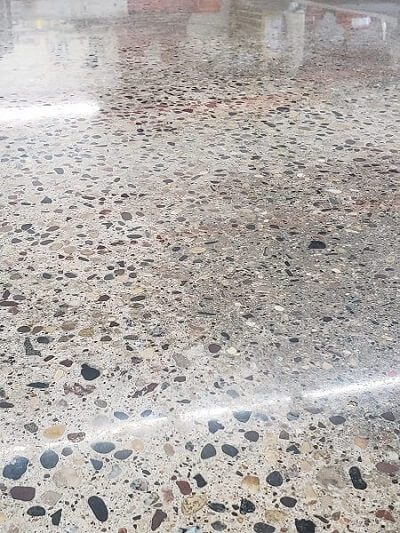 Many people think of "polished concrete" as just a shiny concrete floor. Polished and sealed concrete isn't all about looks, though. It's about performance; and the benefits are many! As the trusted name in commercial concrete polishing for Wisconsin and the entire Midwest, we'd like to tell you more about it and what makes it such a desirable service!
Brighter
First of all, polished concrete reflects more light, creating a brighter work environment for a safer and more desirable place to do business. Not only that, but highly reflective surfaces allow you to reduce lighting-relating energy costs, saving you money.
Safer
Commercial polished concrete also increases slip resistance between hard rubber wheels and your flooring, making it safer for your employees and equipment alike.
Cleaner
Since polished concrete surfaces have been densified and are no longer porous, they are stain resistant. Your tightened floor prevents spills from penetrating the surface—from water to oil to chemicals and more. And, polished concrete does not require a lot of maintenance. Procedures like waxing, shampooing and regular burnishing are not necessary.
The aesthetic impact of commercial concrete polishing is immediate, and cannot be overstated. Are you looking for a cost-efficient way to upgrade the concrete floors in your business space or industrial facility? Consider having them polished to a high-gloss shine with Advantage Coating. Commercial concrete polishing not only adds beauty to your space, but it will actually make your floors stronger and more durable.
With the right applications like those from Advantage Coating, polished slabs are an investment that will pay off. And, our commercial concrete polishing can be custom tailored give you the look and shine and performance that best suits your wants and budget. Contact our commercial concrete polishing team to learn more about what we can offer for your unique business.
Our teams can work anywhere in the Midwest and are fully staffed with highly trained employees. For more information about commercial concrete polishing in Wisconsin call Advantage Coating at 952-556-8720 or Contact Us.