Do you own or manage a commercial facility with concrete floors? If you do, it is important to make sure you are protecting your floors! Commercial epoxy flooring in Eau Claire can do just that – while also elevating the style of your facility! Advantage Coating, the experts in commercial epoxy flooring in the area, have compiled a short styling guide to help you work through the stylistic decision making process!
Colors
The first major decision after you have decided on commercial epoxy flooring is deciding on what color will work best in your facility. While many may think that because the base in concrete, light gray is the only option – however, that couldn't be further from the truth. Your epoxy flooring can be any primary or secondary color, or we can even make custom colors using a combination of other hues! Share the color you have in mind with your commercial epoxy flooring professional, and they should be able to provide options closest to that for your floor.
Color Chip/Flakes
Next, you begin the path towards choosing styles. Do you want more of a textured look to your floors? Consider color chips or flakes! This is an inexpensive option that can create a look similar to granite or speckled rock. Flakes bring an extra flair to the design while still looking professional and retaining all of the functional benefits of commercial epoxy flooring!
Metallic
Metallic epoxy coatings can be used to create a marbled look for your commercial floors. You can choose from endless color combinations, allowing you to not only match the aesthetic of your business, but also grab the attention of potential customers thanks to the elegance portrayed by the marble touch.
Logo
Once you have decided on epoxy style, there are still a few customizations you can choose to add. For example, if you want to include your logo in the flooring in a showroom or entryway, you can! With all of the colors available, we can recreate your logo into the design of your commercial epoxy flooring.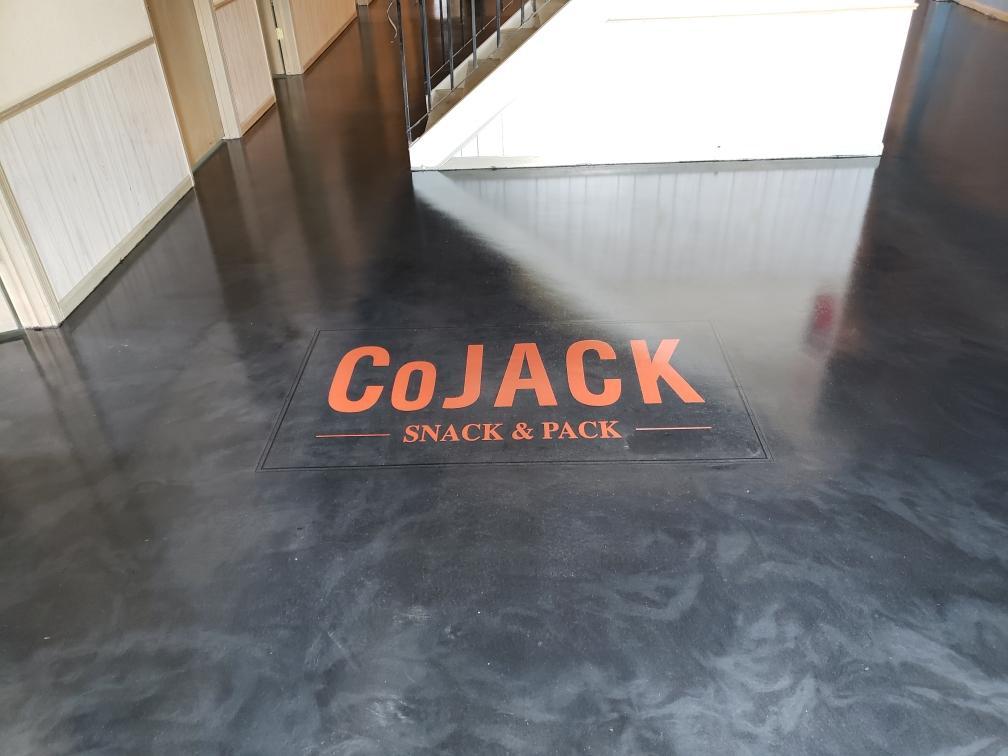 Other Customizations
You can also choose to add functionality or style by including safety lanes, lines or zones! These can not only keep your employees safe during work hours, but they can also elevate the style of your commercial concrete floors.
When you have an idea of what you are looking for in your commercial epoxy flooring in Eau Claire or the surrounding areas, give us a call! Or, if you aren't sure what options are best for your facility, contact us – one of our professionals can help you decide on what style makes the most sense. Call Advantage Coating today at 952-556-8720 or contact us!