South Dakota Commercial Decorative Concrete Floors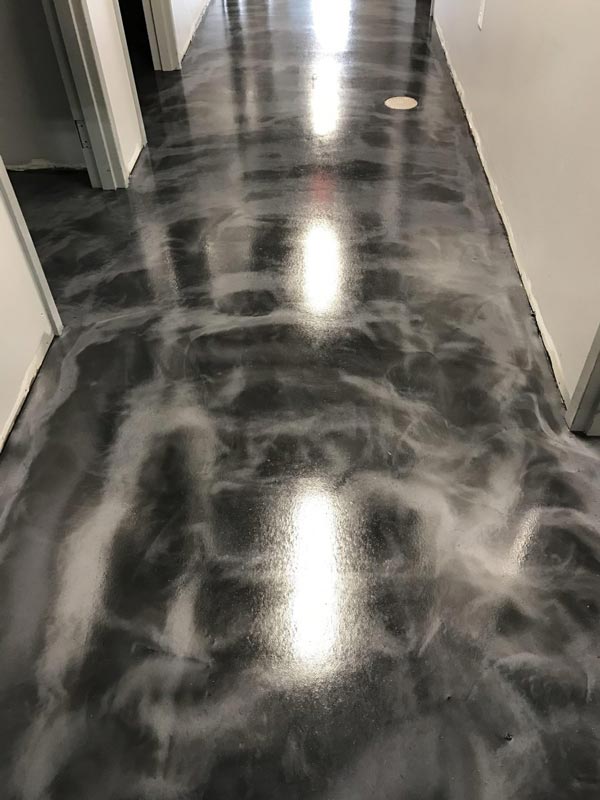 Flooring for your commercial business can be tricky. You want something that is durable and will hold up to heavy use, but you also want something that looks nice. At Advantage Coating, we understand commercial flooring. That's why we offer commercial decorative concrete floors for South Dakota and surrounding states. You can get a flooring that's long-lasting and beautiful. Still not sure if this applies to you? Read on.
Commercial decorative concrete floors are just what they sound like. The base is concrete, meaning you'll have a strong foundation. Then we add a fun coating to make it decorative. This can include various colors or blends. You can match it to your décor. Whether you need flooring for an office, school, restaurant or store, we can help you choose the best option for your needs.
Don't settle for boring floors, let our team customize the flooring to reflect your business appropriately! Contact our concrete flooring specialists to get started.
Commercial Decorative Flooring from Advantage Coating
We are proud to offer many flooring options for our clients. One of the most popular is Tennant Eco-Advantage coatings. There are many advantages to this type of concrete floor coating:
Durable – offers a non-yellowing and UV-resistant topcoat that provides extreme resistance to heavy traffic
Safe – provides one of the most slip-resistant floors available with quartz exposed aggregate application
Compliant – meets VOC regulations
Beautiful – complements any environment with various colors and patterns
Odorless – can be applied during normal business hours if needed
Environmentally friendly – uses less solvent, meaning less evaporation and contamination
Decorative flooring solutions from Tennant combine durability, slip reduction, chemical resistance and light reflectivity. It creates a floor that will hold its aesthetic beauty for years to come.
If Tennant Eco-Advantage sounds like a viable option for your commercial space, you can contact us, and we will send our area representative out to discuss the options and details with you. We will survey the site, discuss preparation and complete the application according to what works with your busy schedule. You can trust our experienced team to create the commercial decorative concrete floors you've always envisioned!
Contact Us for Commercial Decorative Concrete Floors
If you would like to learn more about commercial decorative concrete floors in South Dakota, contact Advantage Coating! We will help you through the process and provide after-sale support as well. Commercial floors are our specialty!