Commercial Decorative Concrete Floors for Iowa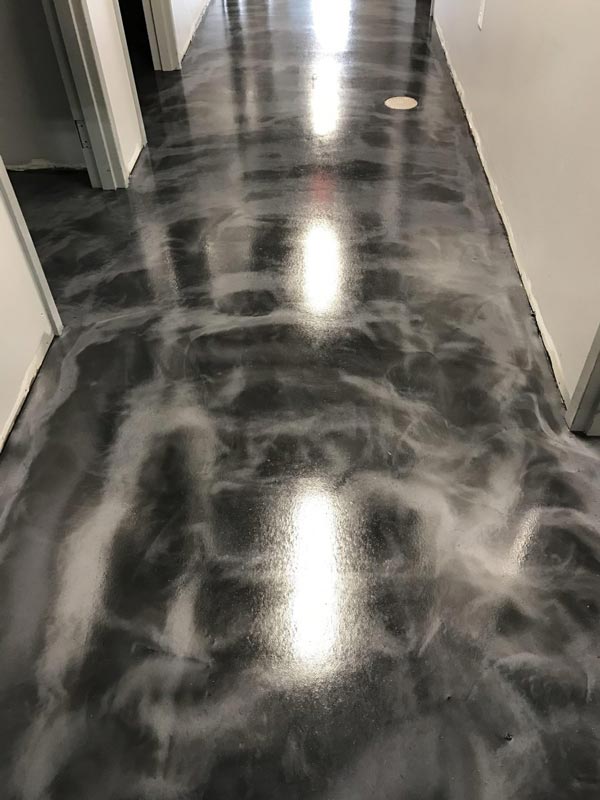 Are your floors saying what you want them to about your business? Your flooring is a reflection of your business so they should be well maintained, safe and also great to look at. An unkempt, unsafe or dull floor can not only degrade the overall appearance of your business but can create a multitude of safety issues as well. Have you considered commercial decorative concrete floors for your Iowa business? They can take your floors to the next level, offering a durable surface with style and intrigue! They are a great way to incorporate color, texture, a unique finish or even custom design into your functional flooring. They also provide a safer and more durable surface for heavy foot traffic and day-to-day wear and tear.
And, because commercial decorative concrete floors are available in so many colors, styles and blends, you are sure to find just the right one to meet your unique wants and needs! Are you interested in learning more about how commercial decorative concrete floors can enhance your business? Give us a call at Advantage Coating today to learn more about coating, resurfacing and the many services we offer.
Advantage Coating Commercial Decorative Concrete Floors
As the trusted name in commercial decorative concrete floors for the Midwest, Advantage Coating provides professional coating and flooring resurfacing you can depend on. We have experience offering commercial concrete coatings for a wide variety of clients in many different industries and we've been doing it for over 40 years.
We offer a wide variety of options in commercial decorative concrete floors including Tennant Eco-Advantage Coatings. Tennant Eco-Advantage Coatings are eco-friendly, virtually odor-free, user-friendly and VOC-compliant. They offer long-lasting and high-performing results, and they come in a wide variety of colors: blends and solids. These commercial decorative concrete floors are the perfect complement for just about any environment. They work great in:
Bathrooms
Public spaces
Schools
Offices
Entryways
And more
And, these are just some of the great applications for commercial decorative concrete floors! Contact the experts at Advantage Coating and we can tell you even more ways to enjoy this great option in flooring. We are a family-owned and operated business which means we can offer personalized service to meet your unique needs.
Contact Us about Commercial Decorative Concrete Floors
Do you want better, more unique flooring for your business? For more information on commercial decorative concrete floors at your Iowa area business, call Advantage Coating at 952-556-8720 or Contact Us.